The Need for Postural Support Does Not End When the Day Does
On average, you spend one third of your life in bed. If you are sleeping on a pillow that does not address your specific needs, you are likely causing repetitive strain on important neck structures. Just as important to health as good nutrition and proper exercise, sleep posture is a significant factor in the treatment of conditions such as neck trauma, tension headaches, or arthritis of the back and neck. Plastic deformation (soft tissue stretching) and musculoskeletal instability can develop when the cervical spine is not adequately supported during sleep. Painful misalignment of the spine may result. Cervical traction pillows from Foot Leveler's Inc. support the neck with gentle traction during sleep. The head, neck, and spine are aligned whether lie on your back or side. Plastic deformation is eliminated and a normalized physiologic curve may improve vascular and neurological function.

The Exclusively Yours® Custom Designed Sleep Pillow
Not everyone wears the same clothing or shoe size, so why should everyone use the same pillow? Just like our custom designed foot orthotics, the Exclusively Yours® pillow is custom-made for your unique posture. We take your neck and upper back measurements and then Foot Leveler's hand-makes a pillow that is just for you and no one else! The Exclusively Yours pillow gives you a better night's sleep.
It is the ultimate cervical support for your neck during sleep providing:
1. Custom-made support for your individual postural needs
2. 2-Year Guarantee
3. Three unique versions: One for people who sleep on their backs, one for people who sleep on their sides, and one for people
who sleep equally on their backs and sides easy & convenient for you:

Pilo-Pedic® Cervical Support Pillow: 4-Way Support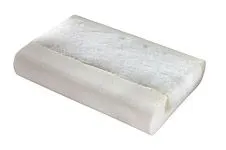 This is a non-customized, versatile, four-way patented pillow designed to provide appropriate neck support for almost every body type. Each pillow has a narrow and wide edge and a soft and medium center, so you have 4 support options in 1 pillow. This pillow provides therapeutic traction and support for the cervical spine.
The Pilo-Pedic® Cervical Support pillows offers a variety of firmness levels, and comes in three sizes:
- Junior for children and small-framed adults (under 110 lb.)
- Standard for average adults (120 lb. - 170 lb.)
- Extra for large-framed adults (over 180 lb.)
*This page is adapted from Foot Leveler's Inc.